HVAC Services in
Canoga Park
The comfort pros at Season Control can handle all your HVAC needs, from heating repair to AC installation and more!
Your Premier HVAC Company Near Canoga Park
When looking for reliable HVAC companies in Canoga Park, Season Control stands out as a top choice. With more than two decades of dedicated service, we have established ourselves as seasoned experts and trusted neighbors who understand the specific heating and cooling requirements of the Los Angeles community.
Each season in LA comes with its own unique challenges. However, with Season Control, you can enjoy optimal comfort in your home, regardless of the external weather conditions. So, whether you require heating or cooling services, remember that Season Control is the local and trusted HVAC company you can count on, right here in Canoga Park.
Our team of highly trained technicians takes pride in delivering top-notch HVAC solutions, whether it's installing an A/C system, furnace installation, and replacement, or providing essential maintenance to keep your systems running efficiently. We're meticulous in our approach, ensuring that every task is executed flawlessly the first time.
Unpredictable situations can arise at any time, and that's why we're on standby 24/7, ready to address your urgent HVAC issues even outside regular business hours.
For the best HVAC services for your Canoga Park residence or commercial establishment, get in touch with Season Control. Contact us today at (818) 431-2751 or drop us a line, and we'll be more than happy to assist you promptly.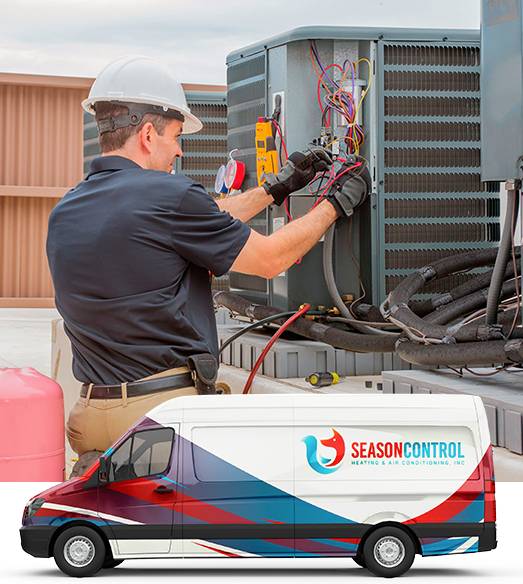 AC Installation & Repair in
Canoga Park
For residents in Canoga Park, CA, and the surrounding Los Angeles areas, Season Control is your trusted HVAC service provider. Whether you need an AC upgrade, routine maintenance, or emergency repairs, our seasoned professionals are just a call away.
Knowing the local climate and understanding the demands of the Canoga Park community, our solutions are tailored to meet your unique needs. As one of the leading HVAC companies in Canoga Park, CA, we pride ourselves on providing efficient, reliable, and affordable services to our customers.
We're well aware of the challenges homeowners face when dealing with fluctuating temperatures. Hence, we aim to ensure that every household can enjoy a consistent, comfortable environment regardless of the weather outside.
If your air conditioner is not working optimally or causing inflated energy bills, it might be time to consider a checkup. Regular AC maintenance can help prolong the life of your system and save on costly repairs down the line.
Contact Season Control today – your go-to HVAC company in Canoga Park, CA. Let us help you stay cool and comfortable all year round.
Furnace Installation & Heating Repair in
Canoga Park
Though we are blessed with an excellent climate in Southern California, you still want to make sure your home's furnace is in good condition for those moments when you need it most.  If your current heating system isn't properly heating your home, or is breaking down frequently, or is simply costing you a fortune in energy bills, Season Control can help you find a solution that addresses all your needs without breaking the bank. Season Control can help you avoid furnace issues by installing a modern, energy-efficient replacement that will keep your family warm for years to come. We also handle all kinds of repairs and can help you find solutions for avoiding further issues and reducing your overall energy costs.
Indoor Air Quality in
Canoga Park
In the Los Angeles area, where concerns about poor air quality and pollution are ongoing, finding reliable HVAC companies is crucial. Many homeowners are actively seeking HVAC companies in Canoga Park that can help improve indoor air quality. If you're searching for an "HVAC company near me," look no further than Season Control, your trusted solution for optimizing indoor air quality.
Season Control stands out as a premier HVAC company in Canoga Park, CA, with a dedicated team of air quality professionals. Our focus is on the installation, maintenance, and replacement of crucial components such as filters, purifiers, humidifiers, and dehumidifiers. These integrated systems work harmoniously to purify and balance indoor air, creating a healthier and more comfortable living environment for everyone in your household.
When you choose Season Control, you're proactively addressing indoor air pollutants and safeguarding against respiratory issues like allergies and asthma. If you're in search of a top-notch HVAC company, our seasoned air quality experts are here to meet your needs. Prioritize your family's well-being by reaching out to Season Control, the reputable HVAC company in Canoga Park, CA. With our assistance, you can breathe easier and enjoy a healthier indoor atmosphere.
Season Control: The Leading HVAC Company in Canoga Park
For top-notch HVAC solutions in Canoga Park, CA, look no further than Season Control Heating & Air Conditioning. We stand out as a premier choice for HVAC services, with a focus on quick response times, exceptional customer service, and unmatched expertise. Our dedicated team of experienced technicians is equipped to handle a wide range of needs, from extensive AC installations to minor furnace repairs. No matter the scale of your requirements, our professionals will tailor a cost-effective solution that aligns with your financial considerations, ensuring your comfort for the long haul.
For comprehensive HVAC services spanning the Greater Los Angeles region, don't hesitate to reach out to Season Control Heating & Air Conditioning at (818) 403-3775. Alternatively, you can drop us a message to schedule your no-obligation visit. Your comfort is our priority!
Exploring Canoga Park, CA: Where Community and Charm Converge
Nestled within the San Fernando Valley, Canoga Park is a vibrant neighborhood in Los Angeles, California. With a population of approximately 60,000 residents, this diverse and tight-knit community offers a unique blend of urban amenities and suburban tranquility.
Canoga Park's geography boasts a mix of residential streets, commercial hubs, and lush green spaces, providing a balanced urban experience. Residents and visitors alike can enjoy a variety of local points of interest, from boutique shops and family-owned eateries to parks and cultural centers.
One notable attraction is the Westfield Topanga & The Village, a sprawling shopping complex that caters to every retail desire. For nature enthusiasts, Lanark Recreation Center and Runnymede Park offer recreational facilities and spaces to unwind.
As a neighborhood with a rich history and modern allure, Canoga Park captures the essence of Los Angeles living while cultivating a strong sense of community.